Welcome to our process
Are you thinking about using a sustainable & mobile power source for your sensor systems?
 In order to ensure a smooth transition and optimised products we've developed a 3-step process
Step 1 – Evaluating the vibrational environment
We perform measurements to gather data from the vibrational environment

Analysing the information gathered time and determining the characteristics of the vibrations

Determine energy demand – what is needed to power the sensors
The first step is all about getting to know the environment and understanding the characteristics of the vibrations. This information is vital in order to create the perfect solution for your environment. If you don't have the information available we will of course assist you in doing so or completely take it off your hands by collecting it ourselves.
Step 2 – Adaptation and simulated tests
Tuning of our harvesters to match the specific environment

Performing simulations to ensure success

Final adjustments based on performed simulations
Running hardware based tests is expensive. In order to minimise unnecessary costs and to improve accuracy we have teamed up with two of the most advanced companies on the planet when it comes CAD-software and simulation driven product development; Autodesk and ANSYS. By using these softwares we have the ability to detect and correct details that otherwise would been left unnoticed before conducting test in the field. By using a smarter product development process we ensure our delivery of top notch products.
Production of a smaller number of products for live testing

Live testing in lab & real environents

On site implementation
Data driven simulations are fantastic and enables us to build better and more advanced products. But in the end, physical testing and implementations are what we are all about. Through the production a limited number of products that are tested in their intended environments we verify that our efforts ensures the customer products of top notch quality.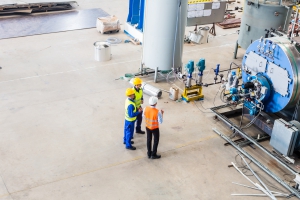 Sounds interesting? Get in touch!
We would love the opportunity to talk to you who find our products and the possibilities they create interesting! Get in touch with either Erik or Viktor – we're waiting for your call!