Discounts & Quotations
If you've made it this far it seems as you're interested in purchasing one or several data loggers – something we're extremely happy about! But if you should have any questions regarding we hope you find your answers below.
Pricing details
We have created our e-commerce store as we want to make purchasing the ReLog as simple as possible for you as a customer. In the webshop you can choose to pay via Credit card or via Invoice depending on what is easier for you and your organisation. If your worried about security aspects for Credit card payments you can relax, as we have chosen to implement Stripe's solution for credit card payment and you can read more about the security and how they handle sensitive information here.
If you prefer to use invoice you simply tick the box for "Invoice" and complete the purchase. An invoice will be sent to you by ReVibe staff within 12 hours after completing the purchase. The invoice shall be paid within 10 days from received and processed via wire transfer. We do not accept checks.
Do you offer discounts?
Yes we do! We are so happy and humbled that you're even purchasing one ReLog that we of course want to sweeten the deal a bit if you decide to purchase two or more ReLog's. We are using the following discount setup which automatically will be calculated when you ad two more ReLog's to the shopping cart:
2-5 units = 3 %
6-8 units = 5 %
9-20 units = 7 %
21-100 units = 12 %
Ordering through the webshop
In order to make purchasing through the webshop as simple as possible for you we've created a walkthrough of the process of placing an order:
1st step:
Choose the product you're interested in. In the example, we've chosen the ReLog 32 gb option. And then go ahead and click "Add to cart".
2nd step:
When finding yourself seeing this page you are in the cart and what is visible to you are the products that you've placed in the cart. You can now see the price including and excluding VAT.  Don't worry, you will only be charged VAT if you provide a Swedish address or a European one but can't provide a valid VAT-number (next step). So if you're expecting to purchase without being charged VAT, just update your address and progress to the next step by pressing "Proceed to checkout".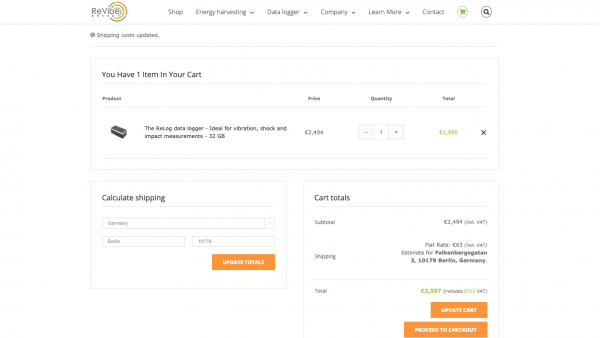 3rd step:
You will now arrive at a page labeled "Billing details" where we ask you for your address and contact details. This is necessary information for us in order to be able to deliver the shipment to you without any logistical issues and also contact you if needed. For more information on how we handle personal information, please have a look at our Privacy policy. 
At the bottom of the page you will find a field labeled "VAT number". This is only of use to companies registered within the European Union. If you have provided an address within the European Union (not Sweden)/Norway/Switzerland you will be charged with Swedish VAT (25 %) unless you can provide a valid VAT-number. All companies registered within the European Union has such a number (check yours here).  If you can provide such a number, or have provided an address outside the European Union you will not be charged VAT in the next step.
When all the fields have been filled out, you're ready to press "Continue".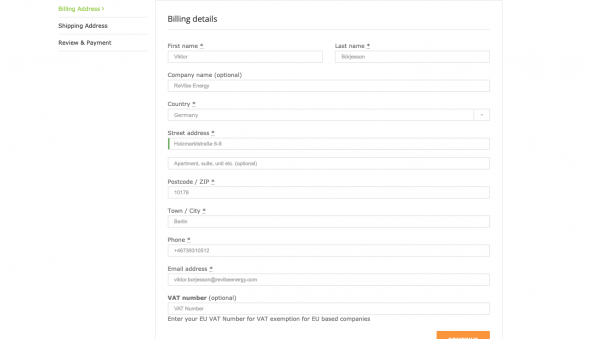 4th step:
In this step, you're asked to provide your shipping address if it should be different from your billing address. If not, please proceed to the next step.
5th step:
Finally you have gotten to the 5th and final step – placing the order. Your total cart is again displayed, and this time with or without VAT depending on your previous choices. If everything looks OK, proceed to choosing your preferred payment option; Credit Card via Stripe of normal invoice. If you have chosen "Invoice", an invoice will be sent to you within 12 hours.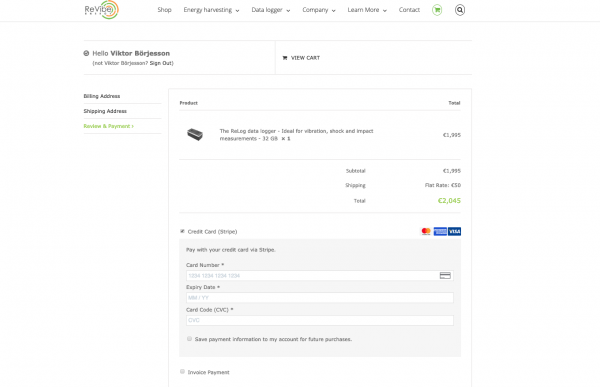 Manufacturing & Shipment times
Every ReLog is made to order at our facilities in Gothenburg, Sweden. This means that there is some lead time before the unit is shipped to you. Normally, everything is assembled within 3-5 days and shipment usually takes 2-3 days, depending on where in the world you are situated.