the ultimate vibration data logger
We have all encountered those ordering processes that makes you wonder if the seller even wants to sell their products. And this, is our article to ensure that you will never come close to asking yourself the question: "How to order the ReLog?"
And to make it as easy as possible for you, we have two different ways you can purchase the ReLog: either via our website or via the website of our distributor DigiKey.
How to order the ReLog via revibeenergy.com
 In order to make purchasing through the webshop as simple as possible for you we've created a walkthrough of the process of placing an order:
1st step:

Choose the product you're interested in. And then go ahead and click "Add to cart".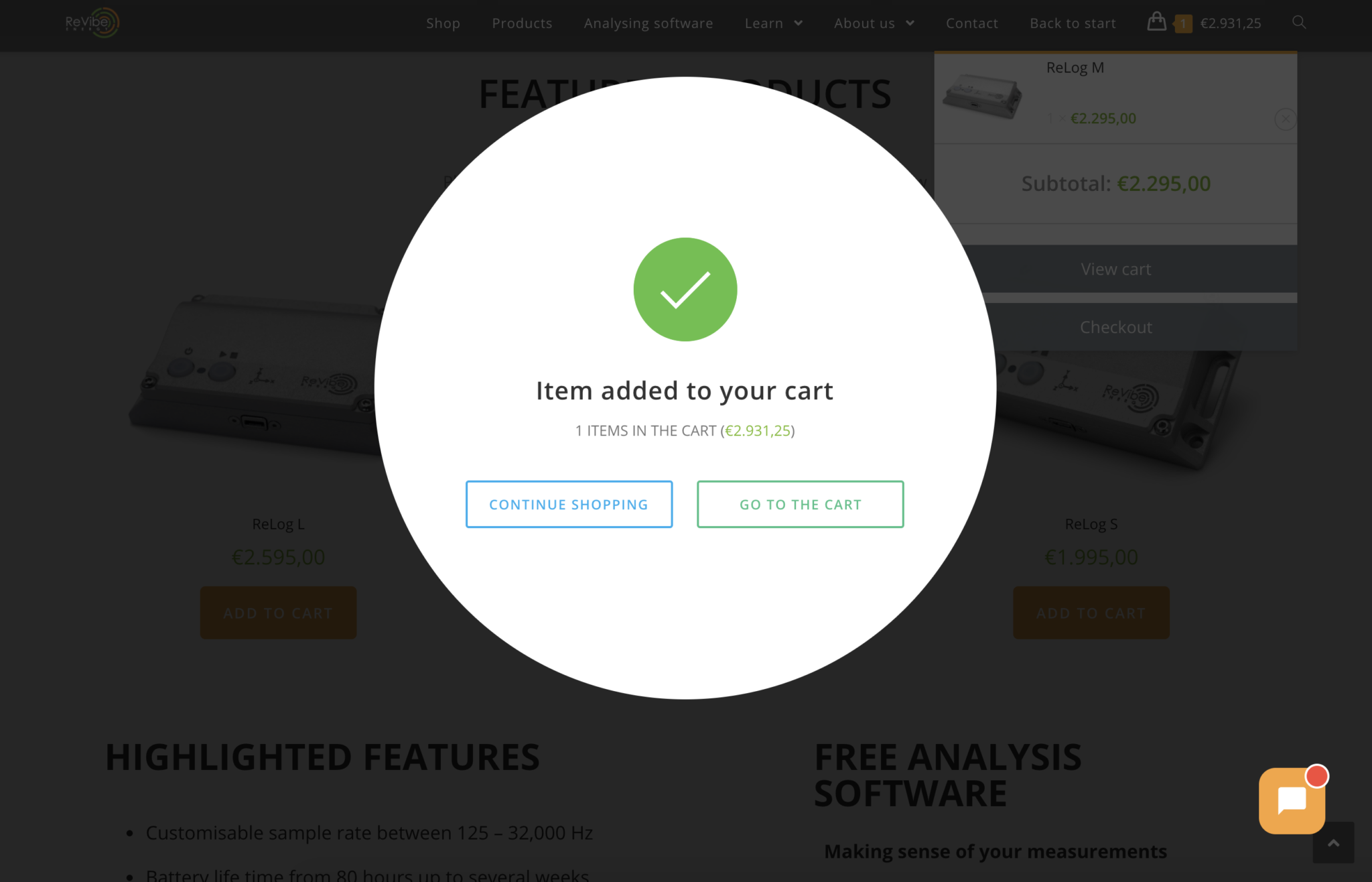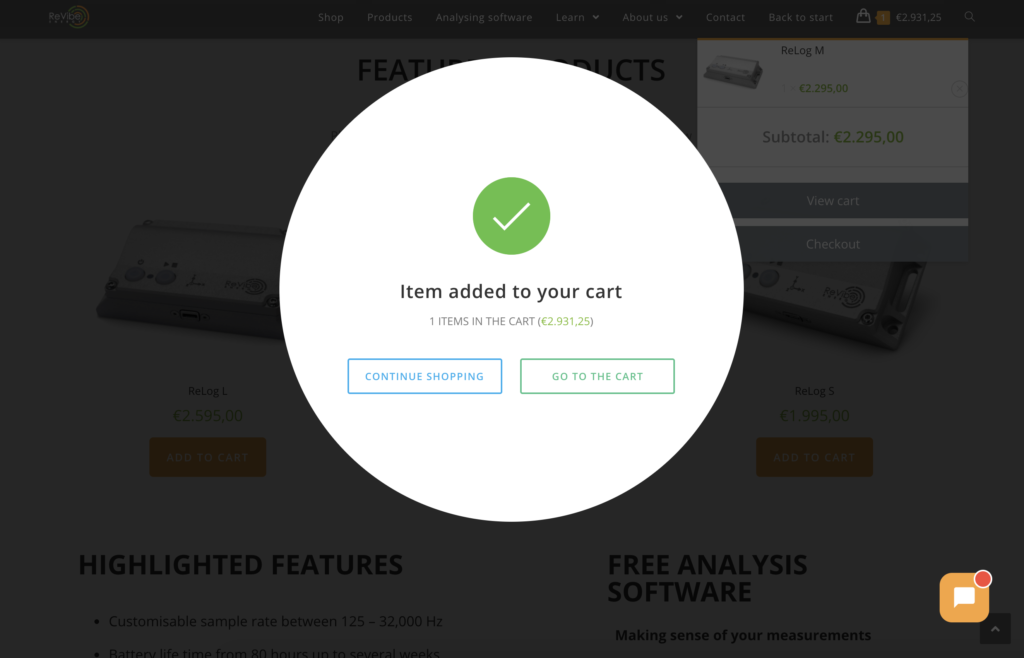 2nd step:
Once you've added the product to the cart, you will have the option of continue browsing or moving directly to the cart. If moving to the cart, you will get an overview of all the products you've added to the cart. If you're happy, simply move on to the Checkout. 
NOTE: In this step, the cart will display a VAT amount corresponding to the Swedish VAT. No worries, if you are eligible for purchasing without paying VAT it will be removed in the next step once you've added information around your VAT registration number (only for EU companies) and your billing/shipping address.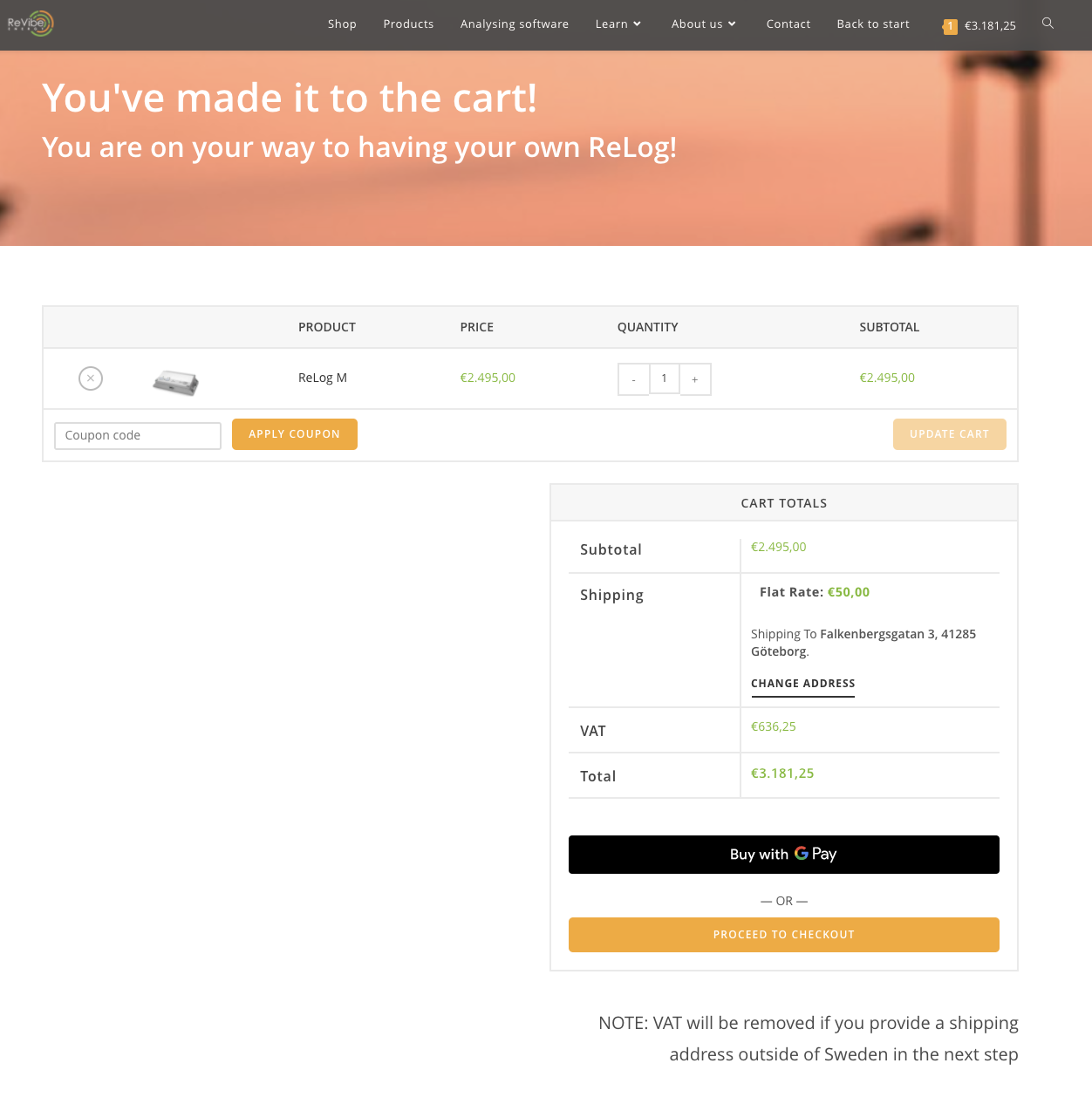 3rd step:
You will now arrive at a page labeled "Billing details" where we ask you for your address and contact details. This is necessary information for us in order to be able to deliver the shipment to you without any logistical issues and also contact you if needed. For more information on how we handle personal information, please have a look at our Privacy policy.
At the bottom of the page you will find a field labeled "VAT number". This is only of use to companies registered within the European Union. If you have provided an address within the European Union (not Sweden) /Norway/Switzerland you will be charged with Swedish VAT (25 %) unless you can provide a valid VAT-number. All companies registered within the European Union has such a number (check yours here). If you can provide such a number, or have provided an address outside the European Union you will not be charged VAT in the next step.
When all the address-fields have been filled out, it is time to choose a payment option: 
We offer three payment options: Pay by Invoice, PayPal or Stripe. Choose the one you feel most comfortable with and press "Place order" (will be showed if you choose Stripe or Pay by Invoice) or "Proceed to PayPal" (will be showed if you choose PayPal).
Once you've completed the process you're done! The order for the ReLog has been placed and you can expect your ReLog to be delivered to you shortly. For more information on shipment and delivery lead times, take a look at our dedicated site for Shipping & Delivery.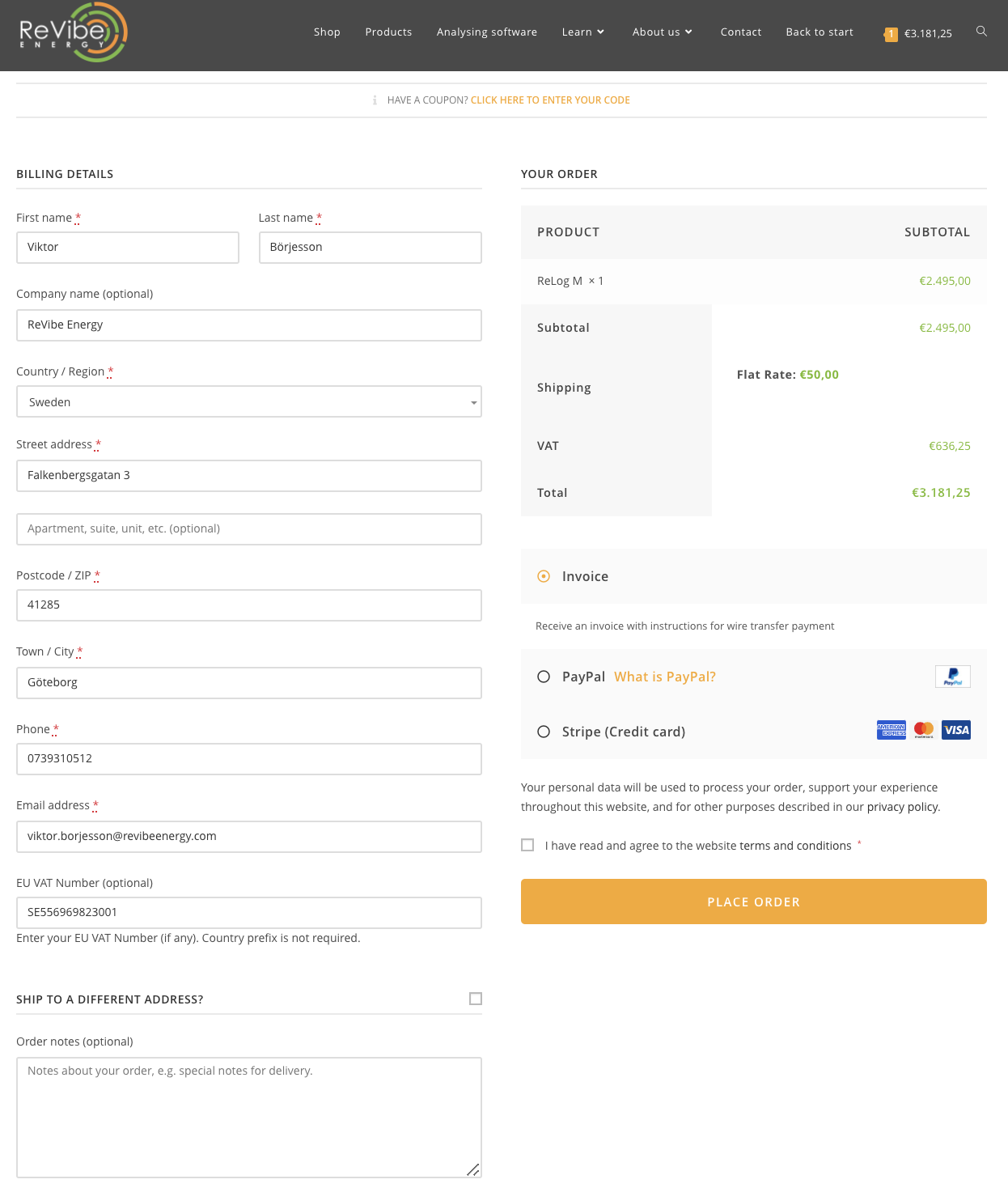 How to order the ReLog via DigiKey
You might ask yourself, why would we offer you to purchase our products via a distributor as an alternative? Well, the answer is simple: We are a small company, and even though we are well known with our current customers we understand that new customers might feel more comfortable placing orders through a vendor they've previously worked with. And that's where DigiKey comes into the picture! 
DigiKey is one of the largest distributors of instruments & electrical components around the globe and since we know from experience that their speed of delivery and customer service is next to none, we felt that it's a given that the ReLog should be possible to purchase through DigiKey. 
Step 1: 
The first thing to do, is to navigate to the ReLog parts page – can be found via this link. Here, you can see an overview of the different versions of the ReLog that DigiKey stocks at the moment. Take a look at the different specifications and decide which version that suits you the best. Once you've decided, add it to your cart and head over to the checkout page. 
Step 2: 
DigiKey allows you to complete the purchase as a Guest or you can log in to your profile. And the rest is really quite simple! Just add your shipping address and continue to the checkout and choose your preferred payment option. 
Step 3: 
You're done! The ReLog will be shipped within 24 hours and will reach you within 1-2 business days depending on where in the world your are situated. 
Can I get a quotation for my purchasing department?
If your purchasing department doesn't allow you to purchase the ReLog by using a credit card for receiving an invoice (both options are available in the web shop) then we can certainly help you out and create a quotation for you. Simply reach out to us at [email protected] with the following information:
Your name
Company name, shipping & invoice address and VAT number (if you are situated in the European Union)
Which version of the ReLog you are interested in and how many units you need
Once we receive our request for a quotation, our sales department will get back to you within 24 hours with an official quotation.
For more details on this and our pricing structure, please take a look at the following article: "
Discounts & Quotations
"
Yes, we do! We are super happy that you are considering purchasing one or several ReLog vibration data logger(s). If you decide to purchase more than one unit, we do of course want to sweeten the deal a bit for you. For details around how much discount you can receive, take a look at or article on the topic: "Discounts & Quotations" 
Shipping the ReLog to your location
We're located in Sweden, but we ship to your location, regardless of where you are situated across the globe. We use carriers of the highest quality (DHL, FedEx, UPS & DB Schenker) to ensure that deliveries are carried out on time and in a professional manner.
Interested in seeing what shipping rates to your location will be? Take a looking at our dedicated article around shipping & delivery to get you the best information.
What's included the box that you will received?
Soon enough, the box will arrive at your doorstep and this is what you will find when you open the box: 
ReLog (S, M or L)
Mounting tape (3M 950 transfer tape)
Mounting magnets 
Studs/screws for mounting
USB cable to transfer data to a PC and charging the ReLog
Manual & Quick start guide